HOLLOWCORE CALCULATION PROGRAM
PROGRAM FOR THE CALCULATION AND DESIGN OF HOLLOWCORES
Simple HOLLOWCORE slabs with semi-rigid joints, placed in continuity
UP TO 4 SPANS + OVERHANGS
Calculations according to Eurocode 2 UNI EN 1992-1-1 version 2005 and NTC 17–January–2018 or D.M.14–January–2008.
AUTOMATIC PROJECT OF THE HOLLOWCORE: IF YOU THINK 10 SECONDS ARE TOO MUCH, PANTRAF CAN CHOOSE THE RIGHT HOLLOWCORE WITHIN 4 SECONDS, JUST THE TIME TO WRITE SPAN AND LOADS. PANTRAF WILL PROPOSE THE HOLLOWCORE TYPE, THE NUMBER OF HOLES TO FILL, MINIMUM REBARS BOTH FOR FLEXION AND SHEAR.
The program "PAN-TRAF" (HOLLOW CORES) is dedicated to elements without shear reinforcement (stirrups).
Bending and
shear
verifications
using
Ultimate Limit
States
and
Serviceability
Limit
States
,
in a
sequence of
sections arranged at a constant
spacing along
the beam.
Shear verifications using Ultimate Limit States at supports
SHEAR AND MOMENT GRAPHS.
Values beyond limits are evidenced with red, light blue if for values under the limits and verified.
Calculation according to Eurocode 2 of the percentage of strands area that can be used as bonded reinforcement at support. This area of reinforcement is used for verifications with cast still not solid, to which it adds the rebar area needed for the verifications with all the loads.
AUTOMATIC FILLINGS OF CORES- Automatic calculation of the number of holes that must be filled with cast on the ends of the hollow core to satisfy the shear verification.
Verifica sismica integrata
Verifica al fuoco integrata e automatica (a richiesta)
NOVITA' 2018:
#1.1. Peso proprio alveolare e getto integrativo del giunto
#1.4. Riduzione del modulo elastico del prefabbricato
#1.5. Verifica a taglio EN1168
#1.7. Verifica a taglio in campata
#1.8. Verifica a taglio in campata
#Aggiornamento verifica appoggio per NTC 2018
Possono essere imposti dall'utente nella fase di definizione della sezione, nel Modulo Geometrie, altrimenti vengono calcolati dal programma sulla base delle geometrie teoriche.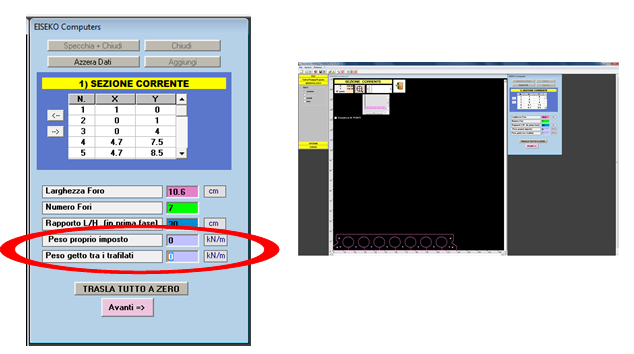 Viene considerato per l'aumento della larghezza bw nel calcolo del taglio e delle caratteristiche geometriche di seconda fase.
Possono essere inseriti a cura dell'utente nel getto tra i giunti. Il programma li mette in conto solo nelle verifiche in seconda fase, cioè con i carichi successivi alla solidarizzazione del getto in opera.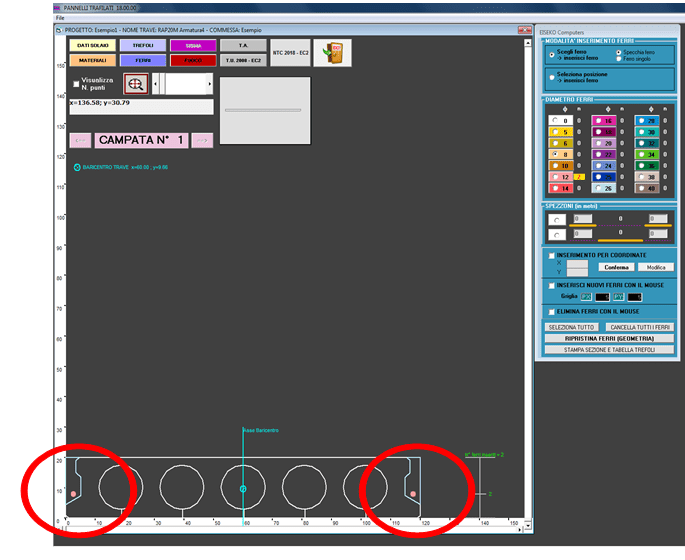 Per tener conto dell'effetto sul modulo elastico E del calcestruzzo, dovuto alla maturazione accelerata dei getti in stabilimento, è stato introdotto un coefficiente riduttivo, variabile da 0.6 a 1.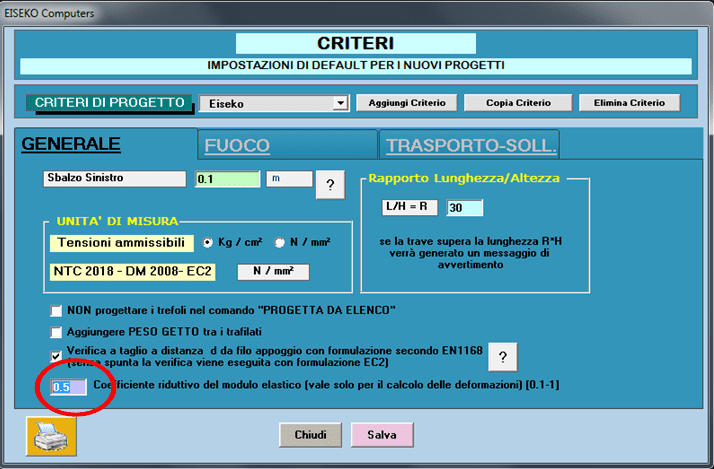 E' stata aggiunta la possibilità di fare la verifica a taglio a filo d dall'appoggio usando la formulazione EN1168. La formulazione viene utilizzata anche per la prima fase, in cui si può fare conto del solo prefabbricato.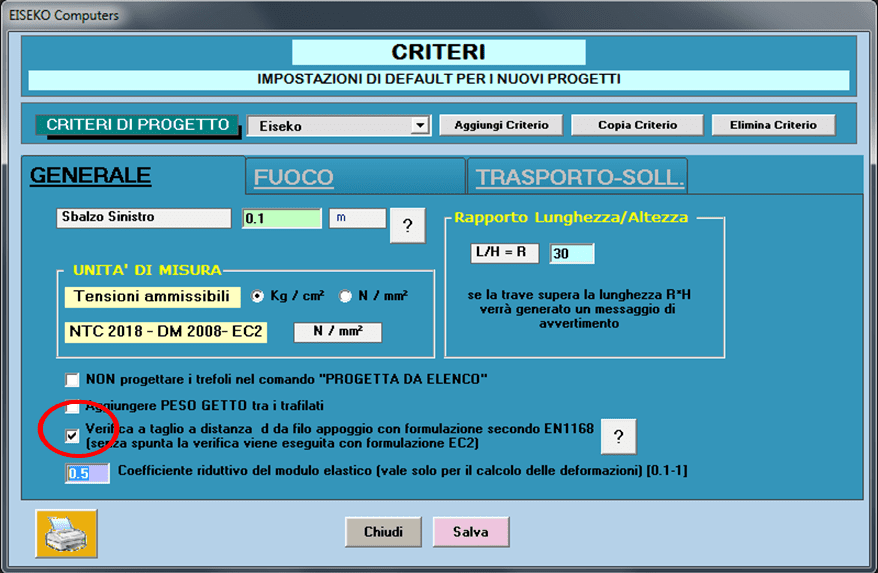 Appare una stampa di questo tipo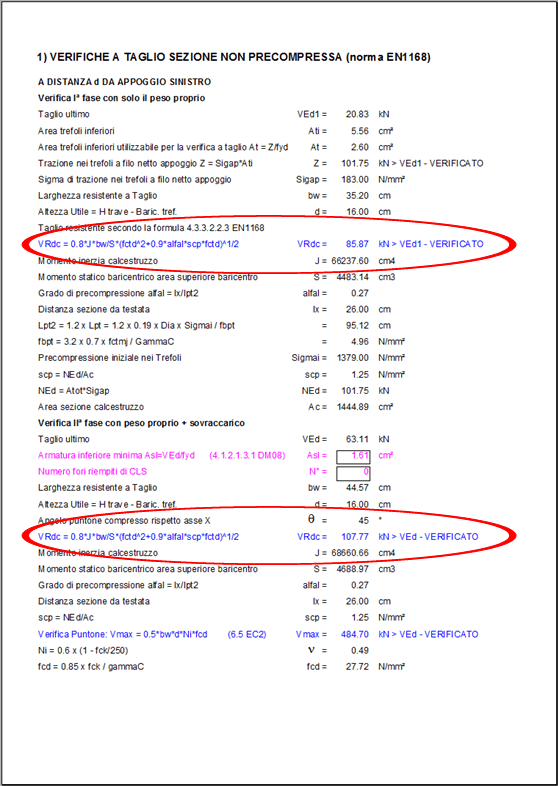 Dalla tabella del calcolo, cliccare su Relazione Continua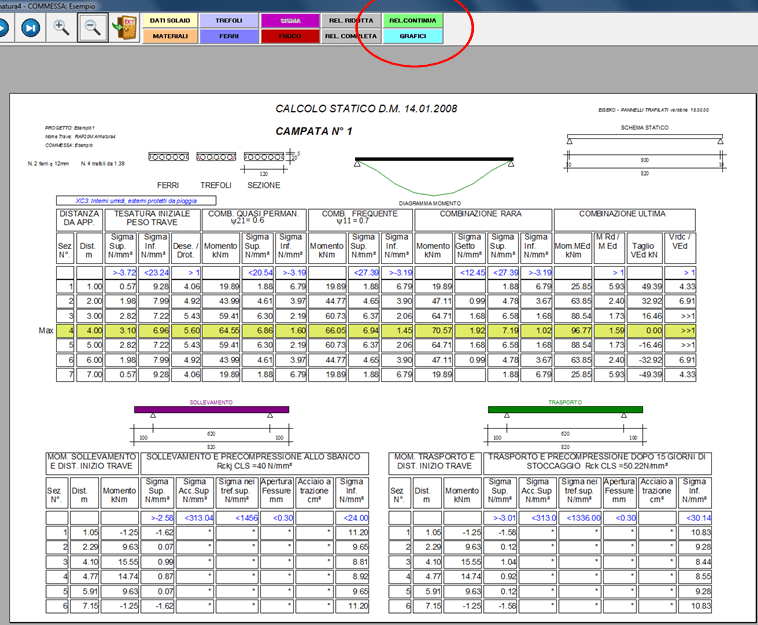 Appare questa videata in cui è calcolata l'armatura superiore: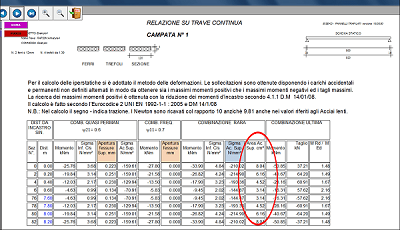 Il programma differenzia la verifica a taglio in campata a seconda che la sezione sia interamnete reagente o fessurata.
Se è interamente reagente utilizza la formulazione dell'EC2 o dell'EN1168 a seconda della scelta dell'utente. Se viene superato il limite a fessurazione all'intradosso oppure all'estradosso viene usata la formulazione EC2.
Verifica a taglio sezione interamente reagente
Formule 6.4 EC2, oppure 4.1.24 NTC 2018 valida in Italia.
Oppure formulazione EN1168, vedi qui sotto.
Verifica a taglio sezione fessurata
Formule tratte dal paragrafo 6.2.2 EC2, vedi qui sotto.

Il programma differenzia la verifica a taglio in campata a seconda che la sezione sia interamente reagente o fessurata.
Nella relazione finale appare questo paragrafo che specifica per ogni sezione la formulazione adottata.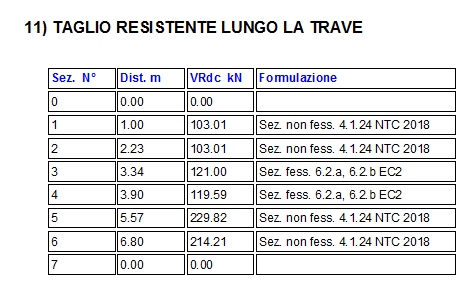 Le nuove NTC del 2018 hanno variato la verifica sull'appoggio effettuando una modifica chiarificatrice di un punto un po' controverso. La nuova espressione, riportata qua sotto, è allineata con la formulazione proposta dall'Eurocodice 2.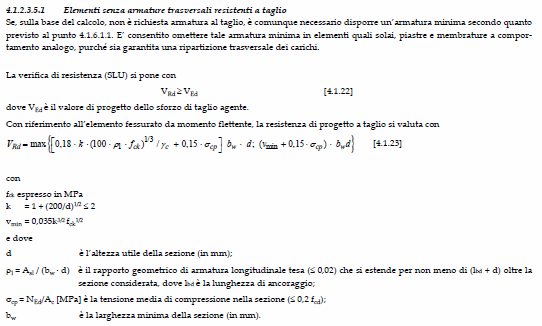 Con questa nuova impostazione il programma confronta il taglio resistente fornito dall'armatura, mediante il termine rol, con un valore di taglio resistente minimo che è sempre presente sull'appoggio.
Riassumo il procedimento di verifica sull'appoggio, ai sensi delle NTC del 2018.
Prima fase
Carichi : peso proprio + getto
Si considera reagente la sola sezione precompressa,
Il programma calcola quanta armatura di precompressione è attiva al filo netto dell'appoggio, calcola il rol corrispondente e quindi calcola Vrdc e Vmin in prima fase. Prende il massimo dei due e lo confronta con il taglio di questa fase.
Qui di seguito è riportata una stampa di verifica di esempio.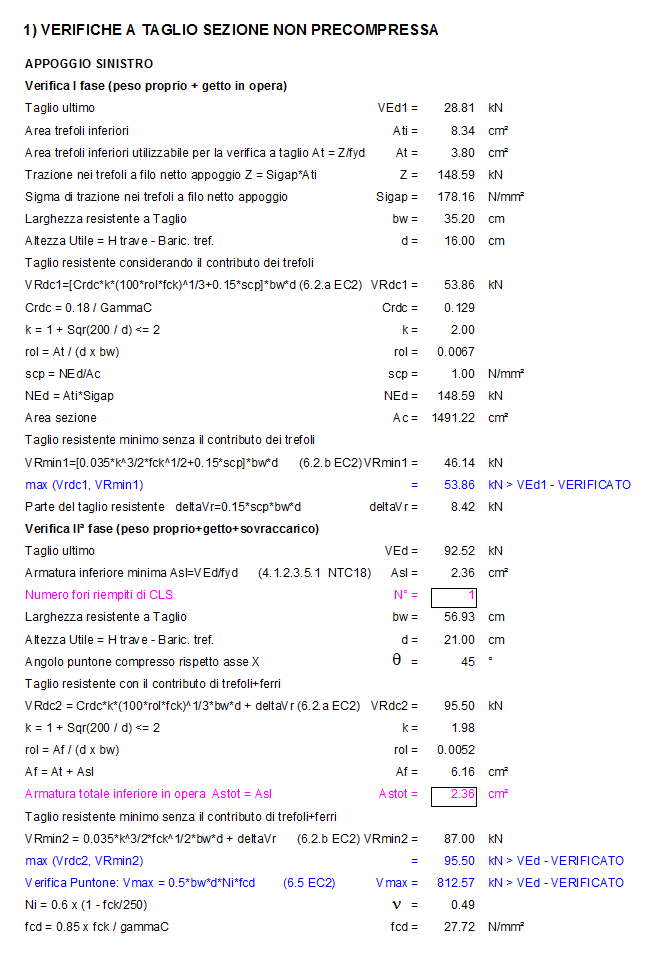 Seconda fase
Carichi : tutti
Si considera reagente la sezione precompressa omogeneizzata al getto nei giunti e al getto della cappa.
Il programma calcola quanta armatura lenta è necessario mettere all'appoggio, mediante la formula VSLU/fyd, la aggiunge all'area di trefoli messa in conto nella prima fase, calcola il rol corrispondente e quindi calcola Vrdc e Vmin in seconda fase. Prende il massimo dei due e lo confronta con il taglio di questa fase.
Se necessario il programma aggiunge fori riempiti.
Se l'utente ha imposto un dato numero di fori riempiti, in questo esempio 1 per testata, il programma aumenta il ferro sull'appoggio rispetto al valore fornito dalla VSLU/fyd.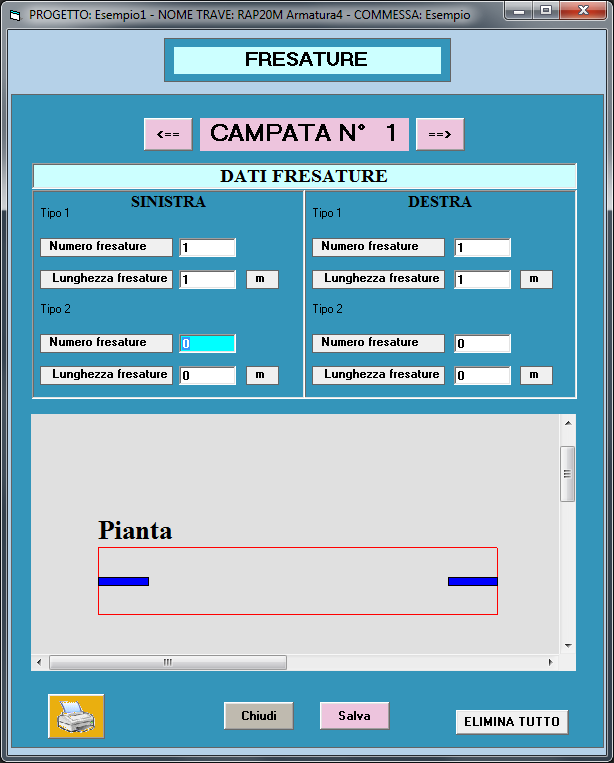 Nell'esempio che segue ai 2.95 cm2 minimi necessari, occorre aggingere altri 4.74 cm2 di ferro per verificare l'appoggio, per un totale di 2.95+4.74 = 7.69 cm2 in opera.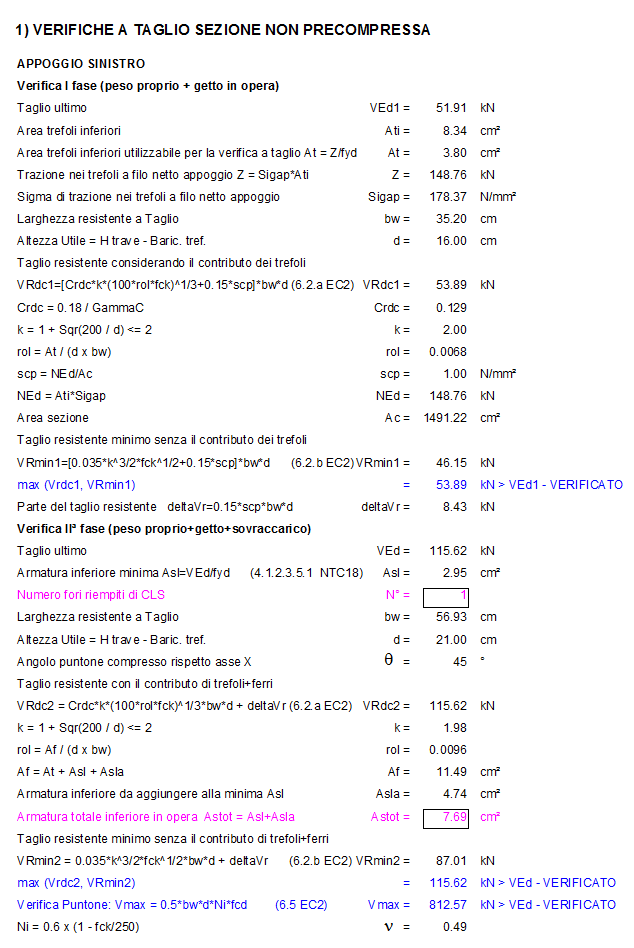 Schermate programma trafilati