EISEKO presents the new IDEA software to design and check concrete details and walls. With it, engineers can break the limits of standard design tools to save time and optimize the material usage. Clear pass/fail checks according to the code are available in minutes, as well as complete output reports.
Software features
FACILISSIMO DA USARE E COMPLETO NEI RISULTATI
TRAVI DI FORMA QUALSIASI
RISULTATI EVIDENZIATI E FACILMENTE CONTROLLABILI
IL PROGRAMMA E' MODULARE: SCEGLI I TUOI MODULI PER CREARE IL PACCHETTO PREF PIU' ADATTO ALLE TUE ESIGENZE SPECIFICHE
IDEA Statica DETAIL deals efficiently with all parts of structure also known as discontinuity regions such as walls, dapped ends, openings, hangings, brackets, and areas above supports. It provides precise checks of concrete and reinforcement strength, stresses and strains. These results are clearly visualized for better understanding of details of structures.
ANY TOPOLOGY
No limits in type or shape of detail. Every type can be easily geometrically defined, reinforced and calculated as your project demands.
ANY LOADING
The overall check of the detail takes into account interactions of internal forces in a plane. Engineer stay on the safe side all the time.
IN MINUTES
The whole design and check process is kept short enough to be a part of everyday work of structural engineers and fabricators all around the world.
Once engineers used the Strut and Tie methos, but it resulted in an oversemplification.
Then the new FEM programs tried to simulate the reality, but that is not enough: to have a safe check you need to switch to IDEA Detail, which is the only one that manages to achieve a safe and economic design based on valid standards with in-depth checks and validations of the software.
Here you can download the file where all the theoretical background on which it is based is described: Theoretical Background
Eurocode + American code
Checks according to EU/AISC
Resistenza del calcestruzzo
Resistenza dell'armatura
Lunghezza di ancoraggio
Controllo delle tensioni
Fessurazione
Campi di compressione
Tensioni principali di trazione
Carico e reazioni dei vincoli
Sforzo di aderenza sulla superficie dell'armatura
Forza di ancoraggio
Forza totale nella barra
Mostra il rapporto tra sollecitazione e sollecitazione limite per la porzione di carico applicata
Valore di verifica della resistenza: mostra il livello di utilizzo del materiale rispetto alla sua resistenza.
Tensioni principali σ1, σ2
Deformazioni principali ε1, ε2
Compressive strength reduction factor
Sforzo di aderenza sulla superficie dell'armatura
Forza di ancoraggio
Forza totale nella barra
Mostra il rapporto tra la larghezza della fessura e la larghezza della fessura limite per la porzione di carico applicata
Spostamento immediato dovuto al carico totale
Spostamento a lungo termine per il carico di lunga durata
Spostamento dovuto al carico accidentale
Spostamento totale che include l'effetto della viscosità
Whatch the videos!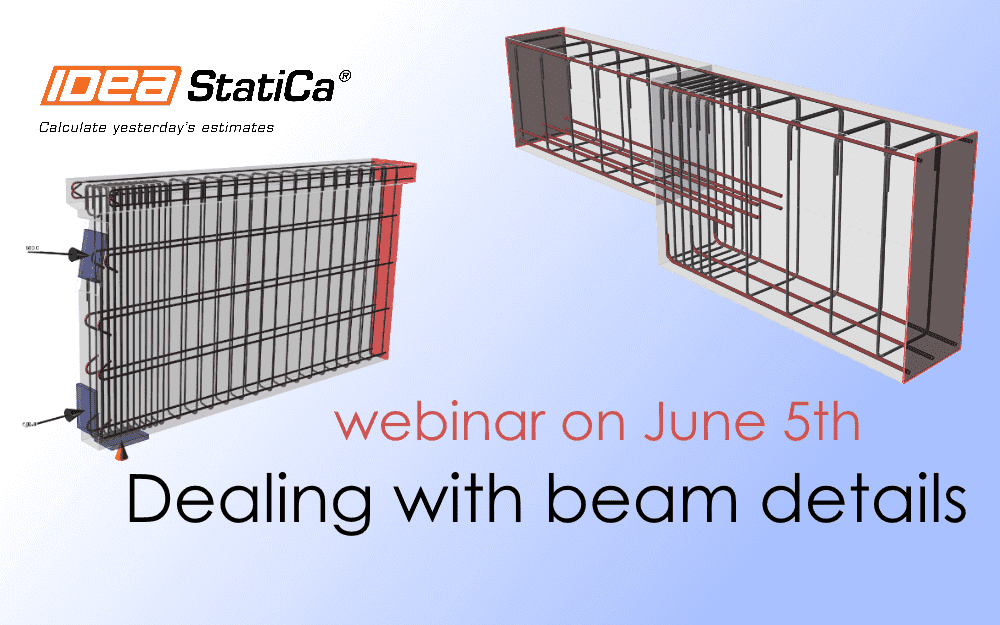 IDEA DETAIL it is available in various purchase modes, you can have a permanent license with or without maintenance, but also 3-months 12-months temporary licenses, including updates.
Contac us for a custom quote!
IDEA DETAIL licenses starting from 590€ (+ taxes if any).
La licenza è di tipo online e può essere utilizzata anche su più computer.
MANUTENZIONE ANNUALE - SERVIZIO DI AGGIORNAMENTO
È possibile acquistare il servizio di manutenzione: con il canone di manutenzione annuale pari al 18.5% del prezzo di listino della licenza, è possibile ricevere tutti gli aggiornamenti rilasciati durante l'anno e l'assistenza per 12 mesi (telefonica, via e-mail o in remoto).
Il rinnovo del canone di manutenzione è automatico, ma è possibile richiederne l'annullamento entro un mese dalla data del rinnovo (come indicato nell'EULA, par. 8.2.).
AGGIORNAMENTI SINGOLI
Gli aggiornamenti alla nuova versione costano il 20% del prezzo di listino corrente della licenza.
Contattaci per un preventivo personalizzato!
IDEA Statica FREE Download
Please fill in the form below and we will send you an email with the link to download the FREE version of the software and all the instructions to the email address you entered.
Information request
Please fill in the following form, our staff will answer as soon as possible to the email address you entered.
News, events and promotions