GEO5

Gravity Wall
Il software Muri a Gravità viene utilizzato per la progettazione di muri di controterra a gravità. Offre una gamma di forme editabili di pareti e verifica sezioni in muratura o in calcestruzzo.
FEATURES OF THE MODULE
Verifica muri a gravità in Muratura e in Cemento Armato
Forma geometrica generica
Gli elementi che concorrono alla formazione della muratura in laterizio (blocchi e la malta) sono categorizzati come Categoria I e Categoria II
Trasferimento dati ad altri programmi GEO5
Esportazione in formati CAD e BIM
Relazione editabile
• Analisi di stabilità (ribaltamento, scorrimento, capacità portante del terreno di fondazione)
• Verifica delle sezioni in cemento armato secondo varie normative (EC 2, BS 8110, IS456, CSN, PN)
• Verifica strutture in muratura (EC 6, GB 50030-2011)
• Modellazione di muri a gravità di forme generiche
• Forma generica del terreno a monte della struttura
• Possibilità di caratterizzare il suolo in maniera stratificata con database integrato di parametri del suolo
• Possibilità di creare diverse fasi di costruzione
• Possibilità di non analizzare la resistenza a trazione del calcestruzzo
• Numero arbitrario di sovraccarichi e forze applicabili alle strutture (carichi distribuiti, trapezoidali, concentrati)
• Modellazione dell'acqua (falda acquifera) a monte e a valle della struttura, modellazione di pressioni idrodinamiche o di distribuzioni di pressione particolari
• Resistenza del fronte della struttura (a riposo, passiva, passiva ridotta)
• Inserimento di fondazioni del muro a gravità (a nastro, pali)
• Berme a valle della struttura
• Calcolo della spinta del terreno in parametri efficaci o totali
• Effetto del Sisma (Mononobe-Okabe, Arrango, normativa cinese)
• La verifica può essere eseguita utilizzando EN 1997-1, LRFD o mediante approcci classici (stati limite, coefficienti di sicurezza)
- EN 1997 – opzione per la scelta di fattori parziali basati sugli Annessi Nazionali
- EN 1997 – possibilità di scelta di tutti gli approcci progettuali, considerando la situazione di progetto
Visualizza il Listino Prezzi e compila il modulo per richiedere il tuo Preventivo Personalizzato.
GEO5 contiene più programmi per l'analisi di muri di sostegno e strutture di contenimento. Questi programmi forniscono la verifica del ribaltamento, dello scorrimento e della capacità portante del terreno di fondazione. Consentono all'utente di verificare la resistenza della sezione trasversale (calcestruzzo, cemento armato, muratura) o la stabilità dei blocchi del muro.
È possibile trasferire dati tra singoli programmi, per ulteriori verifiche, utilizzando la Geoclipboard.
I software collegabili sono:
- Stabilità dei Pendii - Verifica della stabilità globale delle strutture
- Fondazioni superficiali / Fondazioni superficiali CPT - Analisi della capacità portante del terreno di fondazione
- Gruppo di Pali - Analisi della capacità portante del gruppo di pali
- Pali / Pali CPT - Analisi della capacità portante del singolo palo
I metodi di verifica classici forniscono una progettazione e una verifica della struttura rapida ed efficace. È possibile trasferire il modello analitico nel programma FEM, dove la struttura è verificata con il metodo degli elementi finiti. Il confronto di due soluzioni indipendenti contribuisce ad aumentare la sicurezza e l'obiettività del progetto.
I nostri programmi consentono di esportare i formati BIM comuni (IFC e LandXML). L'esportazione mantiene la descrizione di tutti gli elementi, i parametri del suolo e altre proprietà degli oggetti.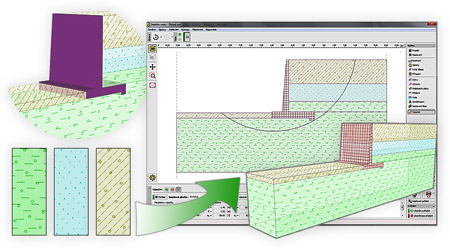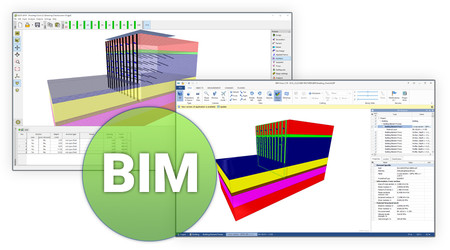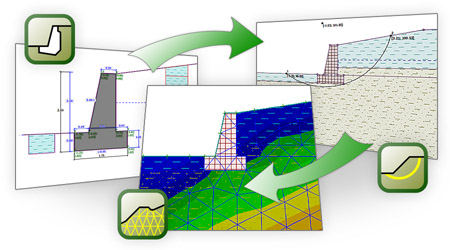 GEO5 FREE Download
Please fill in the form below and we will send you an email with the link to download the FREE version of the software and all the instructions to the email address you entered.
Information request
Please fill in the following form, our staff will answer as soon as possible to the email address you entered.
News, events and promotions